The XVI World Biennale of Architecture Interarch 2020, Sofia, Bulgaria, which was initially announced for the period 17-20 May 2020 will be postponed due to the complicated international situation.
The new dates of the event will be published soon!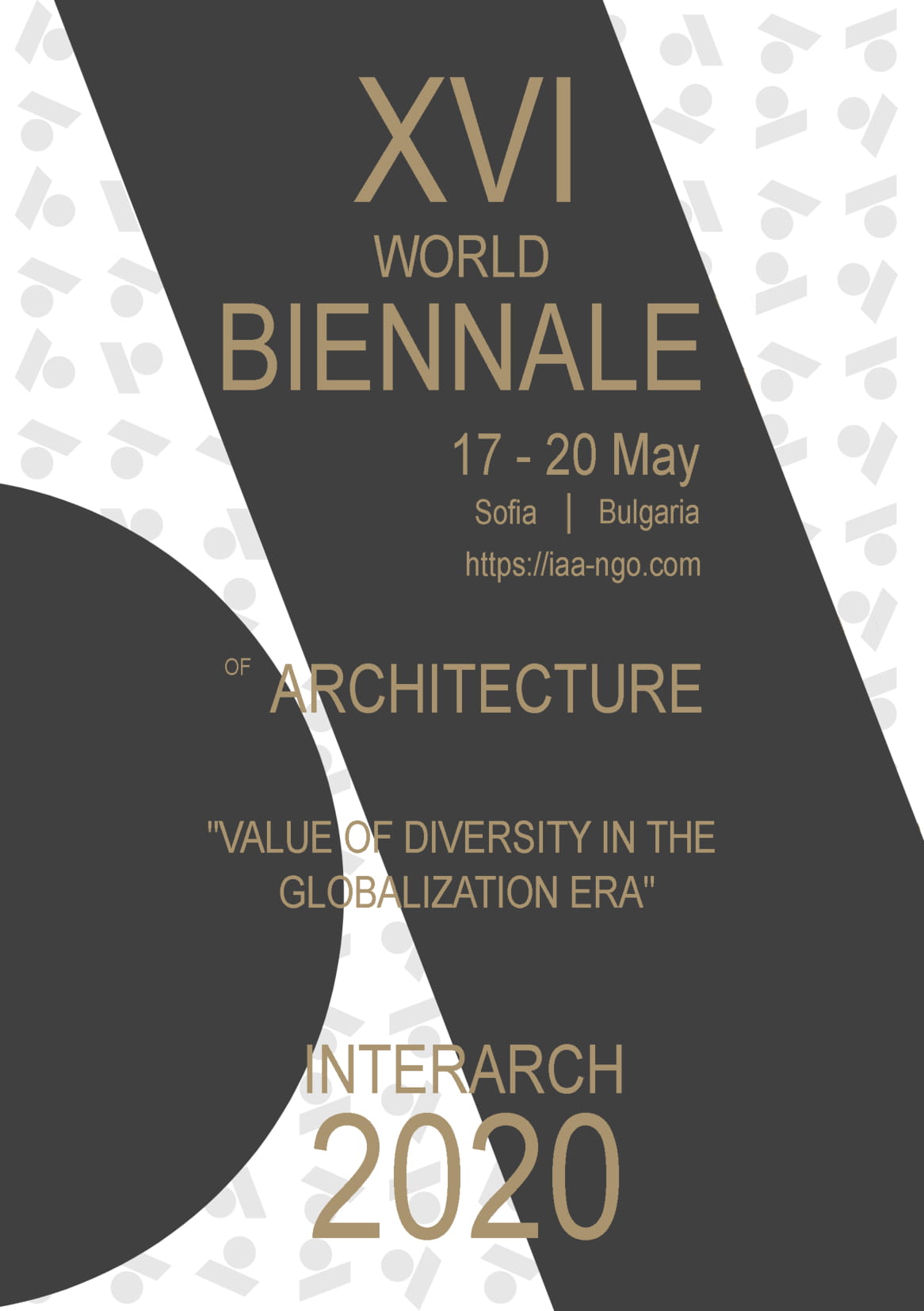 INTERNATIONAL ACADEMY OF ARCHITECTURE
in partnership with
UNION OF ARCHITECTS IN BULGARIA
•
UNIVERSITY OF ARCHITECTURE , CIVIL ENGINEERING AND GEODESY SOFIA
•
CHAMBER OF ARCHITECTS IN BULGARIA
organize
XVI WORLD BIENNALE OF ARCHITECTURE
INTERARCH 2020
" VALUE OF DIVERSITY IN THE
GLOBALIZATION ERA "
17-20 MAY
SOFIA   |   BULGARIA
XVI World Biennale of Architecture is one of the most important architectural events in
2020. Open international forum with professional participation of architects and students
from all over the world, profiling a panorama of the tendencies and
achievements of contemporary world architecture.
Participants will discuss the topic "Value of diversity in the globalization era"
(provisional title), will exchange of ideas with leading masters of the world
contemporary architecture and will take part in the different sections of
Interarch 2020
CONTENTS OF INTERARCH 2020
01. LECTURES BY LEADING MASTERS OF THE WORLD CONTEMPORARY
ARCHITECTURE
02. SEMINARS ON IMPORTANT ARCHITECTURE TOPICS
03. DEDALO MINOSSE INTERNATIONAL PRIZE EXHIBITION
04. EXHIBITION "LEADING MASTERS OF THE WORLD CONTEMPORARY
ARCHITECTURE"
05. EXHIBITION OF ORIGINAL SKETCHES BY FAMOUS ARCHITECTS
06. EXHIBITION-COMPETITION OF ARCHITECTURAL PROJECTS AND BUILT
WORKS
Sections:
1. Infrastructure & Transportation; Landscape & Open Spaces
2. Interior Design of Private Housing; Architecture of Private Housing; Residential
Buildings; Office Interior Design; Office Architecture; Bars & Restaurants; Hotels &
Leisure; Commercial & Retail; Sport Centers; Health Centers; SPA & Wellness Centers
3. Art & Culture; Education Buildings; Civic & Community Architecture
4. Urban Planning
5. Retrofitting & Refurbishment
07. EXHIBITION-COMPETITION OF STUDENT'S DIPLOMA PROJECTS
08. EXHIBITION-COMPETITION OF BOOKS AND MAGAZINES ON
ARCHITECTURE
09. SPECIAL AWARD FOR CAREER
10. ARCHITECTURAL EVENTS IN THE INTERNATIONAL CULTURAL
CENTERS | INSTITUTES IN SOFIA
Preliminary Programme coming soon!
Invitation for participation in Interarch 2020 competitions
Register and Participate in the competitions