The Bruno Zevi foundation annually organizes a competition for a historical-critical essay, analysing an architectural work, theme or architect of the past or present.
The competition is divided into five sections corresponding with the following themes:
– the key role of space in architecture
– the ancient sources of modern language
– history as a methodology of architectural practice
– the modern language of architecture
– landscape and the zero-degree language of architecture
The jury members of this year's contest are Donatella Calabi, Claudio Gamba, Lindsay Harris, Rosario Pavia, Paolo Scrivano.
The prize consists of the essay's publication by the Bruno Zevi Foundation. The author of the winning essay will be invited to give a lecture at a conference in Rome at an award ceremony.
Application deadline: December 31st, 2019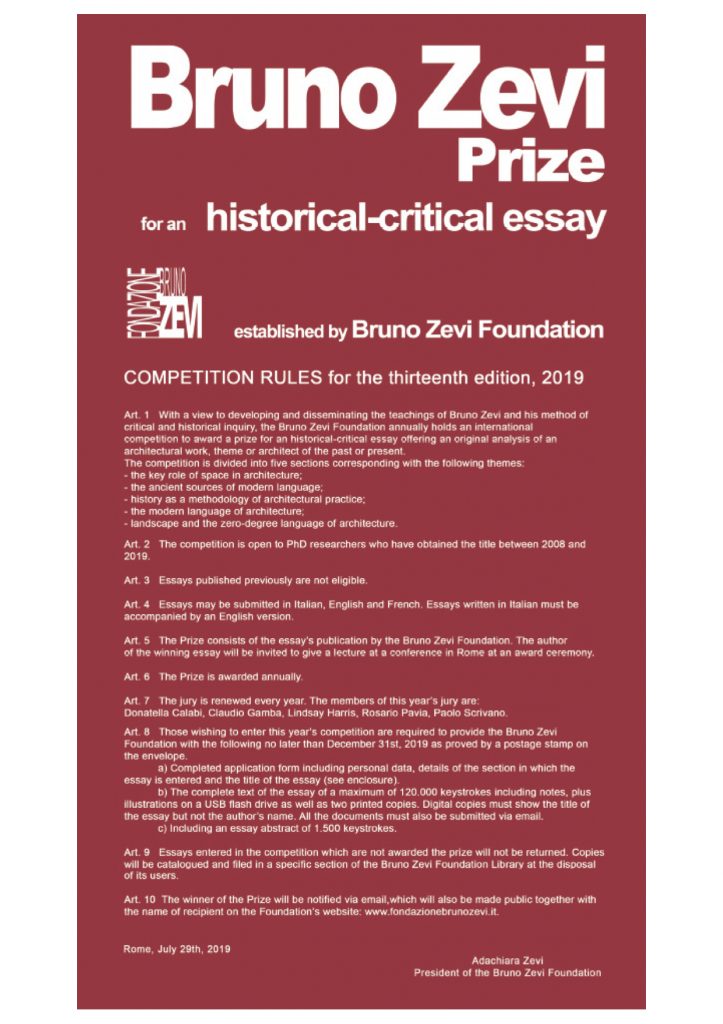 Link to the application form:
https://www.fondazionebrunozevi.it/wpz/wp-content/uploads/2019/08/entryappl_XIII-ed.pdf
More information about the Bruno Zevi Prize 2019: https://www.fondazionebrunozevi.it/en/2019/08/02/bruno-zevi-prize-2019-extension-deadline/?fbclid=IwAR3EqOGZ9Oe2wudAozhumSEZBRwjrJmzjZeyktwv0BCqepl0l3WPjnKXbu8